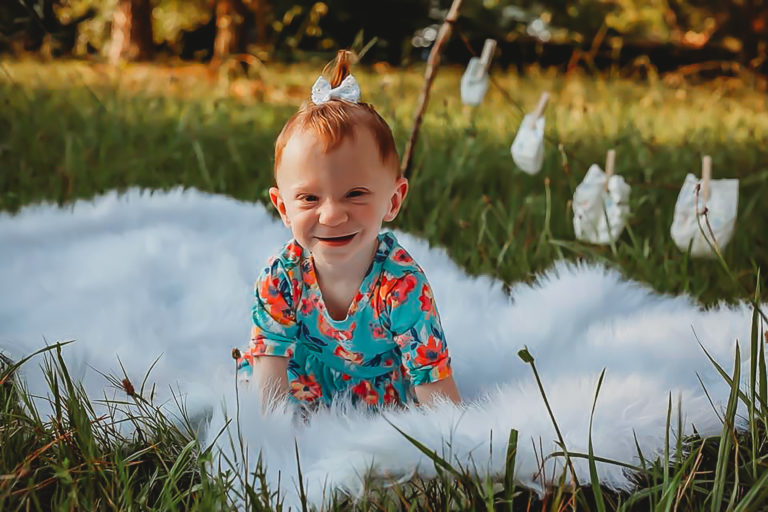 "You need to prepare yourself."
"There's no chance of survival. Let me see you in two weeks to check and see if the fetus has passed."
"You're young; you can try again."
"Delivering will put more stress than needed on her, just let her go."
These are all things the specialists told me during my pregnancy.
While the words still echo in my head, they don't break me like they used to. Because, as I write, I'm looking at my little girl sleeping peacefully. My fighter, my warrior, who beat all the odds and obstacles placed before her.
Let me tell you about Adalee, the little miracle who I'm beyond proud to call my daughter.
It was a shock to everyone when I became pregnant. I'd been diagnosed with polycystic ovarian syndrome – PCOS – which leads to infertility. On top of that, my husband had also been told there was a slim-to-nothing chance of him fathering children.
Surely there was no way I could be pregnant? I'd had several negative tests
So, when they discovered Adalee, she was already in her seventh week of gestation. Surely there was no way I could be pregnant? I'd already had several negative tests. But they did a sonogram to find a cyst and, to everyone's surprise, there was a tiny heartbeat. At that moment, everything changed.
At my 12-week check-up, they found a blood clot in my uterus – a subchorionic hemorrhage. I was put on bed rest and closely monitored. By 18 weeks, the clot had gone. The sonographer was worried as she carried out my scan. She couldn't say anything, but she didn't have to – I could see it in her face. It turned out my baby girl was three weeks behind her expected growth, and there was very little amniotic fluid. My obstetrician referred us to a high-risk pregnancy specialist.
The first one I saw told me my baby had less than a 20% chance of survival. He also told me I was young, healthy and should try again. My heart dropped to the floor. I wanted to scream and cry, to shout at God. Why would we be blessed with this baby if she was to be taken away? I was angry, but my anger quickly turned to determination – I wouldn't give up.
The specialist told me the signs of a miscarriage, said I should watch out for them, and sent me away
I sought a second opinion, but this time there was even less amniotic fluid. Her growth had fallen further behind. The second specialist told me the signs of a miscarriage, said I should watch out for them, and sent me away. He told me to return in a few weeks so they could check for a heartbeat. I was beside myself.
I'd almost given up at this point, ultimately breaking down. But, at my lowest, I found a little bit of faith. With every week that passed, I had a little more hope. Things got worse, but I believed God had chosen me as my baby's mother for a reason.
Adalee's growth fell further and further behind. The levels of amniotic fluid rose sometimes, but then fell again. At each appointment – three times a week – the specialist would warn me the situation wasn't good. I should prepare for the worst.
At 26 weeks' pregnant, I learned the blood flow in the umbilical cord was compromised. I was warned I would probably miscarry within the next 24 hours.
I was told I should let her go – that delivery would put too much stress on her frail body
I'm not sure what changed, but at that moment I gained a strength I'd never felt before. It was time to fight. Right now, Adalee wasn't even what could be considered a viable weight. I had a choice to make; the doctors said – ask them to do everything in their power to save her or do nothing. I was told I should let her go – that delivery would put too much stress on her frail body, it would be inhumane to put her through it. But I asked them to do everything they could. I didn't even think twice. Something in my gut told me I had to fight for my baby girl, so I did.
I was admitted into hospital and put on bed rest. They told me I would deliver within 72 hours. Then three days turned into a week, and one week turned into three. There were so many scares when Adalee's heart rate fell below 50. There were several occasions when they would start prepping me for a C-section, but each time Adalee brought her heart rate back up.
When I was 29 weeks pregnant, as we approached four weeks in hospital, Adalee finally weighed 1lb (453g). This was a big deal. Next day, the sonogram showed she wasn't moving at all, and there was no measurable amount of amniotic fluid. It was time.
On June 22, 2017, at a gestational age of 29 weeks and five days, our daughter was born. But she wasn't 1lb – the weight estimate had been wrong. She was 14.5oz (411g), the size of a baby at 22 weeks' gestation.
Below 1lb wasn't a viable size. They'd told me that so many times. I'm grateful they followed my wishes and did everything they could to help Adalee stay alive. I remember the first time I saw her – her skin was translucent. You could see every bone in her body and the loops of her intestines. I couldn't believe it – my daughter, the size of a Coke can, was here. She was living and fighting.
At four days old, Adalee was transferred to Children's Healthcare of Atlanta. It was the most frightening day of my life. They sedated her to put a line in, but she couldn't handle it, so they had to intubate her instead. The first time I saw my baby girl attached to so many wires and tubes, I broke down.
The days in the NICU passed slowly. She gained weight gradually, but it felt like forever before she reached 1lb. It was three weeks before we were able to hold her for the first time. Believe me when I say that was the best feeling in the world.
The doctors said it was unheard of for such a tiny baby to have no complications other than needing to grow
We knew there were still many obstacles ahead. We'd expected a roller-coaster ride, but it was more like a long, slow, uphill battle. We waited anxiously, convinced we'd be told she had a brain bleed or would need bowel surgery. We never were. The doctors said it was unheard of for such a tiny baby to have no complications other than needing to grow. One called her a superstar.
Slowly, slowly, she gained the weight she needed. Before we knew it, she was 2lbs (907g) and getting ready to be extubated. Adalee had to be stubborn and have it her way, though. Her doctor wanted to wait until she was 3lbs (1.4kg), but Adalee had a different plan – she extubated herself! At three months old, she was no longer on respiratory support and was breathing on her own!
Unfortunately, because she had been on respiratory support, she developed something called retinopathy of prematurity – ROP. It's a potentially blinding disease that needs surgery in some cases, but luckily Adalee only had a very mild case.
We were playing a waiting game until Adalee was big enough to come home
Now, we were playing a waiting game until Adalee was big enough to come home. She'd been getting her nutrition via a tube, which the nurses had to keep replacing. Our baby was quite handsy – she was always pulling out her tubes and heart monitor wires. She was three months old before she drank from a bottle for the first time.
Finally, after 106 long days in the NICU, we got to take our baby girl home. Adalee was 4lbs 4oz (1.9kg) and was sent home with a feeding tube, which got removed just a few days later. Because she was so small, she had to stay on the heart monitor for a while, but once she was home, she seemed to thrive more quickly.
By six months old, Adalee weighed 7lbs (3.2kg). She was off the apnea monitor, and her ROP had pretty much resolved itself – she wouldn't need surgery. She was rolling over, following objects with her eyes. By one year she had officially outgrown her infant carrier and moved on to a big-girl car seat. She was sitting up by herself and babbling constantly.
Now she's nearly 18 months old. She weighs 14.5lbs, rather than 14.5oz
Now, she's nearly 18 months old. A few days ago, she took her very first steps unaided – something we'd been told she probably wouldn't be able to do if she survived. I was so happy; I couldn't stop crying. She crawls everywhere, and her favorite thing to do is go up and down the stairs. She loves to wave at everyone and play peek-a-boo. One tooth has come completely through. And she now weighs 14.5lbs (6.6kg), rather than 14.5oz.
She's happy and sweet, and we are so blessed to have her. There are still some challenges with her health – it would be unrealistic to expect otherwise. But the doctors are amazed at her progress, and our only wish is that she continues to grow and progress. To say we have been blessed with a miracle is an understatement.
Our 14.5oz baby girl, with a less than 20% chance of survival, lived. We know it wouldn't have been possible without God or the incredible doctors and nurses at the Scottish Rite CHOA NICU. We couldn't have asked for a better team to take care of her. To everyone who played a part, thank you – from the bottom of my heart. Without you, Adalee wouldn't be here today.
Also read: